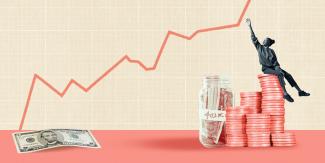 'COVID-Guilt': Why Parents of Young Children Are Feeling Pressure to Overspend on Holidays
After a year defined by its disruption of normal life, parents are feeling the pressure to maintain family traditions this holiday season — and the spending that comes with them.
Parents with kids under 18 are most likely to feel pressure to spend more than they can afford this year (23%), compared to parents with adult children (10%) and non-parents (15%), according to the latest survey from NextAdvisor.
"We feel bad that our kids have been cooped up in the house all year or that we've had to do away with some of the usual traditions like summer camp and vacations," says Farnoosh Torabi, contributing editor at NextAdvisor. "The holidays may feel like the final chance to make 2020 feel like it wasn't a total bummer — especially for our kids who missed out on the normal childhood experiences."
More broadly, Americans are responding to this unusual holiday season by reining in their spending, and rethinking the financial tradeoffs they're willing to make to keep up traditions. Overall, 39% of Americans are planning to spend less on holiday shopping this year and 66% of shoppers do not intend to rack up credit card balances because of their holiday purchases.
"People are just unsure what to do," says Mariah Hudler, LCSW, financial therapist at Koru Financial Therapy. "They feel stuck, they feel really anxious. There is no playbook for how to respond to a pandemic."
Whether you're feeling the pressure to overcompensate for a nontraditional holiday, or unsure how to approach the season at all, here's how experts recommend embracing your holiday spirit this year without breaking the bank.
Spending Pressures
A sense of "COVID-guilt" could be leading us to overspend this year, Torabi says. 
And it's not just affecting parents. Young people are twice as likely as older age groups to feel pressure to overspend. Twenty-eight percent of respondents ages 18-34 felt pressure, while just 10% of those 35 and older reported the same. 
Overcoming that pressure starts with establishing boundaries, Hudler says. Take time now to determine your own financial limitations and where your spending values lie this season. Factor for your monthly costs — debts, rent, groceries, etc. — as well as contributions to savings or retirement to help set a budget.
Then, discuss those boundaries and how they might differ from loved ones' expectations early on, so you can find a way to celebrate that works for everyone. That might mean reevaluating your own expectations as well. 
"You're going to have some people who have lost their jobs and incomes are down," Hudler says. "Be aware that your situation is not everyone's situation. It does take a bit more communication, reaching out and identifying what everyone is comfortable with."
Holiday Debts
Nearly a quarter (22%) of Americans are already expecting they'll carry debt into the new year due to holiday shopping. An additional 12% aren't yet sure whether their shopping will result in credit card debt heading into 2021. 
It's important to get ahead of debt, Torabi says. "If you need to scale back spending this season, do it … unapologetically. Talk to your family and close friends about it. Surely you're not the only one who wants to save.".
Set your spending limits, and then stick to them, says Dusti Young, partner relations specialist at GreenPath Financial Wellness. Plan your purchases and stay away from impulse buys.
And if you're working on debt payoff or other financial goals, don't let the holidays derail your progress. You want to make those goals top of mind.  "List out all of your spending, keep track of what you have coming in and what you have going out," Young says. "Make sure you continue that system of paying your expenses on time and focus on paying off your debt."
Would You Sacrifice Gifts to Achieve Financial Goals?
Most Americans in applicable situations would skip the presents this holiday season to improve their financial health.
We asked survey respondents whether they would choose to sacrifice receiving holiday gifts in favor of making progress on select financial goals: making a mortgage or rent payment, completing a student loan payment, or paying off credit card debt. 
Among those who currently have the following expenses, anywhere from nearly to well over half would choose to skip gifts in favor of other financial obligations:
56.3% would forgo receiving gifts for a mortgage or rent payment
44.9% would forgo receiving gifts for a student loan payment
58.2% would forgo receiving gifts to pay off credit card debt
Would you sacrifice receiving gifts this year in exchange for making progress on financial goals?
Among Americans for whom the following financial situations apply, here's what respondents would be willing to sacrifice receiving gifts for:
YesNoDon't knowMortgage or rent paymentStudent loan paymentPay off credit card debt0%10%20%30%40%50%60%Percentage of respondents
| Sacrifice | Yes | No | Don't know |
| --- | --- | --- | --- |
| Mortgage or rent payment | 56.3% | 31% | 12.7% |
| Student loan payment | 44.9% | 36.7% | 18.5% |
| Pay off credit card debt | 58.2% | 26.6% | 15.2% |
Note: Respondents could also choose "Not applicable" – I do not have this expense. This data excludes those responses.
Between uncertainty about the future and an ongoing unemployment crisis, many people are doing their best to meet essential monthly expenses or reduce the debt they've accumulated throughout the year. Especially if you're in a more financially secure position this year, it's more important than ever to approach your holiday spending expectations — for yourself and loved ones — with empathy and understanding.
How You Can Save This Season
Whether you're feeling pressure to keep up normal holiday traditions, or you're worried about taking on debt going into the new year, planning ahead can help you enjoy the season without financial regrets. 
"I think a lot of people feel guilt around spending, and they feel like they have to buy gifts or they have to host a party," Young says. "One of the things we have learned through this pandemic is that it's more about connection. You just want to be able to spend time with people, you want to be with the people who mean the most to you, and that doesn't require money."
Suggest Alternatives
Take the initiative and suggest switching up costly traditions like family-wide gift exchanges or holiday gatherings, shopping expert Trae Bodge recommends. "We have to be leaders sometimes for our families, and maybe change a tradition," she says. "Other people in the family might be struggling as well and appreciate that."
Bodge suggests setting a cap for your gift exchange, drawing names instead of giving gifts to everyone, or sticking with homemade goodies.
"Think about the things that you're good at — baking, photography, teaching yoga — and how you might be able to share that as a gift with a loved one," Torabi says. 
Don't Spend Money You Don't Have
If you need permission to rein in your spending this year (especially if you're already in debt), take it from NextAdvisor Contributor Jill Schlesinger, CFP: "YOU CAN SPEND $0 THIS HOLIDAY SEASON," she recently wrote in an "Ask Jill" column. 
Schlesinger recommends low-cost experiential or skill-based gifts, like planning a hike with a loved one or offering to complete household repairs. 
This year especially, finding meaningful ways to share joy can be more impactful than any expensive gifts can provide. Costly purchases often aren't what people are needing right now, Hudler says. "They're needing support, they're needing connection and positivity to help them move through this."
Use Your Resources 
If you do have some extra money to spend this year, reach out to your loved ones who might be in a different situation and ask how you might help bring some relief.
"It's good to be aware of what people in your life are going through," Bodge says. "If you're not struggling, but other people may be, how can you help?" 
Ask about what they really need from you right now, Hudler suggests; maybe it's financial assistance, help enrolling in a new course, or exploring new industry options after a job loss.
Shop Smart
For those you do wish to shop for, there's plenty of opportunity to cross items off your list at steep discounts.
Stores like Walmart, Target, and Best Buy all unveiled their Black Friday sales early, with discounts spread throughout the month of November both in-store and online. Spreading your purchases out throughout the next few weeks can not only help ensure they arrive on time, but also break up the costs so you're not hit with it all at once.
Don't forget about extra savings, too. Coupons and doorbusters can be a great way to save if you're comfortable shopping in-store, and online shoppers have even more options. Browser plug-ins like Honey and cashback portals like Rakuten can help you save on many online purchases. 
If you've banked credit card or cash back or points rewards over the past few months, consider cashing in. Credit card issuers often allow redemptions in the form of statement credits, credits toward new purchases, gift cards, and more. Depending on your balance and redemption values, rewards you've already earned could help you save hundreds this season. Also look out for promotional offers from your credit card issuers or shop through their shopping portals for more discounts from popular retailers.
Bottom Line
No matter what solution works for you and your family, one thing is probable: this holiday season will look different. Whether that means having Thanksgiving dinner over Zoom or a pared-down family gift exchange, "This is a great opportunity to reimagine what it might look like, because everything has changed anyway," Young says. 
Start by establishing your own boundaries around spending, travel, and finances so you can preempt any outside pressures or risk taking on debts. Have those conversations early so everyone can align their holiday expectations and plans. Then get creative — shop smarter with great deals and combine new traditions with your longstanding holiday favorites. Most importantly, take time throughout the season to appreciate the people and experiences you value most.
Methodology
All figures, unless otherwise stated, are from YouGov Plc. Total sample size was 2,732 U.S. adults (aged 18+). Fieldwork was undertaken Oct. 26-28. The survey was carried out online and meets rigorous quality standards. It employed a non probability-based sample using both quotas upfront during collection and then a weighting scheme on the back end designed and proven to provide nationally representative results.
Check out the full article here: https://time.com/nextadvisor/in-the-news/holiday-shopping-survey/